ICT Sector – a bright direction of collaboration between Moldova and Sweden
//= get_template_directory_uri(); ?> //= get_template_directory_uri(); ?> //= get_the_post_thumbnail_url( get_the_ID(),'full'); ?>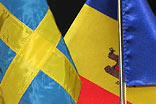 From 28th  to 30th of May 2013 the representatives of Moldovan ICT sector had a study visit and business mission to Sweden. The delegation was led by the Deputy Minister of information and communication technologies, Ms. Dona Scola and included representatives of the Moldovan Association of ICT Companies, USAID CEED II Project, European Business Association, QSystems and DAAC System Integrator. The mission was organized with the support of USAID CEED II Project and Moldovan Embassy in Stockholm.
The visit included discussions with representatives of the Ministry of Enterprise, Energy and Communications, the Ministry of Foreign Affairs of the Kingdom of Sweden and the Council for Trade and Investment of Sweden "Business Sweden".
The contact development with the Swedish Agency for Innovation "Vinnova", Swedish Post and Telecom Authority "PTS", Swedish Agency for International Cooperation for Development "SIDA", was also a part of the Moldovan delegation agenda.
The delegation visited the Computer Science Institute, Service Science and Innovation Centre, Stockholm ICT Laboratory of the European Institute of Innovation and Technology "EIT ICT Labs", located in the Kista area of Swedish capital, considered the Swedish Silicon Valley. The business representatives and Moldovan officials have also visited the headquarters and laboratories of famous companies like TeliaSonera and Ericsson.
During the visit, was held a special event to promote the image of the Moldovan ICT sector and implicitly the image of the Republic of Moldova as a country that provides wide opportunities for ICT outsourcing and business development. CEED II project of the U.S. Agency for Development aims to help Moldovan enterprises in key sectors of the country to compete successfully on the international market, and the European Business Association (EBA) is placed next to MITC among the organizers of the visit. The Moldovan Embassy in Stockholm team had a substantial contribution to the preparation and successful organization of the visit program.