Experți cu renume internațional, invitați la "Moldova ICT Summit 2021: The Future of Digital"
//= get_template_directory_uri(); ?> //= get_template_directory_uri(); ?> //= get_the_post_thumbnail_url( get_the_ID(),'full'); ?>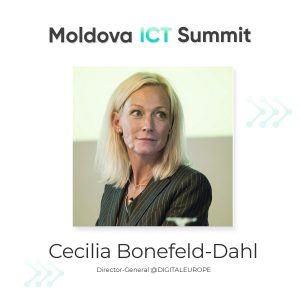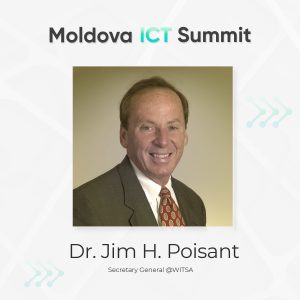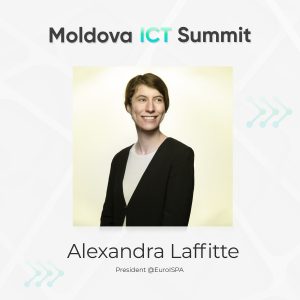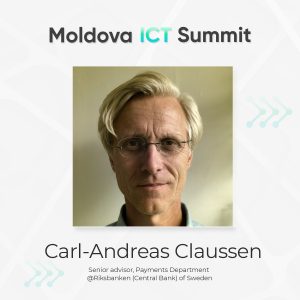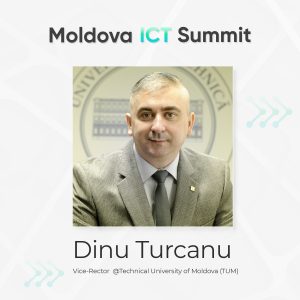 Experți internaționali, speakeri cu renume, lideri vizionari cu expertiză impresionantă în domeniul IT sunt invitații celei de-a 10-a ediții a conferinței "Moldova ICT Summit 2021: The Future of Digital". Evenimentul va include sesiuni dedicate strategiei de dezvoltare în domeniul digitalizării, intervențiilor de creștere a competitivității sectorului TIC, relevării tendințelor globale și aspirațiilor actorilor locali în materie de transformare digitală. De asemenea, vor fi abordate și subiecte ce țin de dezvoltarea strategică a diferitelor sectoare prin intermediul TIC, vor fi prezentate instrumentele și aplicațiile care pot crește eficiența instituțiilor guvernamentale în furnizarea serviciilor publice și vor fi reflectate oportunitățile de dezvoltare a afacerilor corporative prin inovare și TIC.
Cu o experiență de peste 25 de ani în industria TIC, Cecilia Bonefeld-Dahl, director general "Digital Europe" – cea mai importantă asociație din industria tehnologiilor digitale, cu peste 35.000 de companii din Europa – va deschide partea plenară a evenimentului și va vorbi despre strategiile europene și obiectivele stabilite de acestea pentru transformarea digitală, instrumentele financiare disponibile pentru reformele necesare.
Dr. Jim Poisant, secretarul general "WITSA" (Alianța Mondială a Tehnologiei și Serviciilor Informaționale) – formată din peste 80 de asociații TIC de top din întreaga lume, membrii săi reprezentând peste 90% din industria TIC la nivel mondial) – va face un rezumat al tendințelor globale care influențează dezvoltarea sectorului ICT. Alianța WITSA este implicată activ în probleme de politici publice care afectează creșterea sectorului TIC în întreaga lume.
Alexandra Laffitte, președinta "EuroISPA" (Asociația Europeană a Furnizorilor de Servicii de Internet), care este cea mai mare asociație mondială a furnizorilor de servicii de internet, reprezentând interesele a peste 2300 de companii din toată Europa. La eveniment, ea va împărtăși din expertiza sa în domeniul politicilor societății informaționale, care pot asigura succesul în transformarea digitală.
Carl-Andreas Claussen, consilier superior, Riksbanken (Banca Centrală a Suediei), cu o expertiză substanțială în politici monetare și o experiență de peste 20 de ani la Banca Centrală a Norvegiei și Banca Centrală a Suediei. Domnul Claussen a fost implicat direct în analiza și dezvoltarea plăților digitale și economiei fără numerar în Suedia.
Carl Heath, vicepreședintele Institutelor de Cercetare din Suedia "RISE" și consilier special pentru protecția dialogului democratic, angajat de guvern să conducă o misiune națională de consolidare a alfabetizării mediatice și informaționale în Suedia. La eveniment, expertul va prezenta studiul de caz despre educația pe tot parcursul vieții în era digitală.
Printre invitații celei de-a 10 ediții a Moldova ICT Summit, care vor participa la discuțiile despre viitorul digital mai sunt: Katarina Fried, ambasadoarea Suediei în Republica Moldova; Scott Hocklander, directorul Misiunii USAID în Moldova; Iurie Turcan, viceprim-ministrul pentru Digitalizare al Republicii Moldova; Thomas Foerch, manager de proiect GIZ Moldova; Ion Iordache, director interimar Agenția de Investiții a Moldovei; Veaceslav Cunev, președintele ATIC și mulți alți experți în domeniu.
Mai multe detalii despre invitații ediției curente a Moldova ICT Summit sunt disponibile  pe www.ictsummit.md.
În acest an, forumul va avea loc în format hibrid la sediul Tekwill, în 23 septembrie 2021, cu începere de la ora 9:30 și va putea fi urmărit online LIVE, pe pagina de Facebook sau pe www.privesc.eu.
Accesul la eveniment este limitat, din cauza restricțiilor impuse de pandemia de COVID-19. Participarea este gratuită și este posibilă în baza înregistrării. Nu rata evenimentul și înregistrează-te acum!
Organizatori: Asociația Națională  a Companiilor din Domeniul TIC (ATIC), Tekwill, Agenția de Cooperare Internațională a Germaniei (GIZ)
Parteneri guvernamentali: Agenția de Investiții din Moldova
Parteneri de dezvoltare: Agenția Statelor Unite pentru Dezvoltare Internațională (USAID), Suedia
Parteneri internaționali: Digital Europe, Euro ISPA, WITSA
Sponsori: Orange, Moldcell, DAAC System Integrator