[extended deadline] Request for Proposals (RFP): Design and production of video lessons
//= get_template_directory_uri(); ?> //= get_template_directory_uri(); ?> //= get_the_post_thumbnail_url( get_the_ID(),'full'); ?>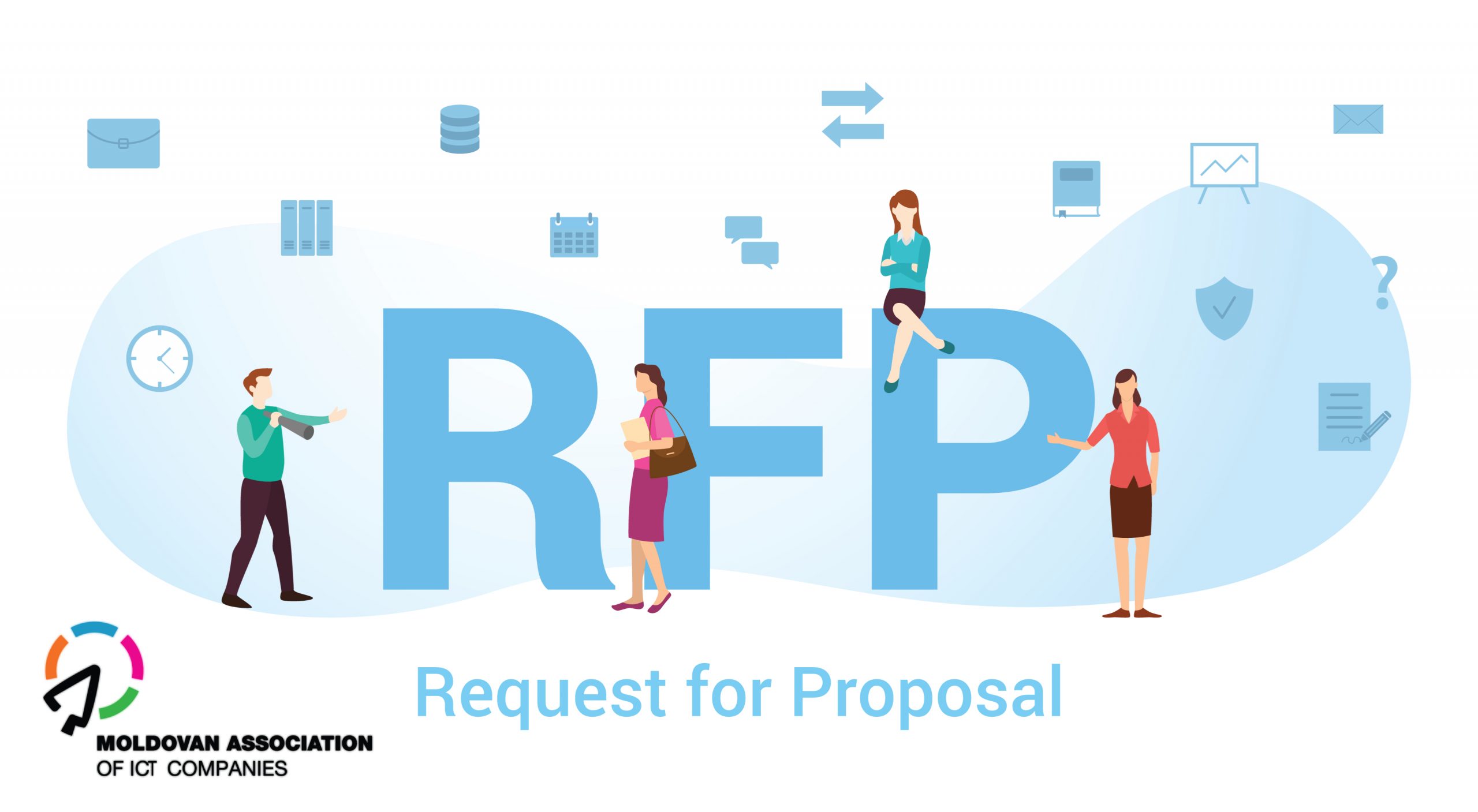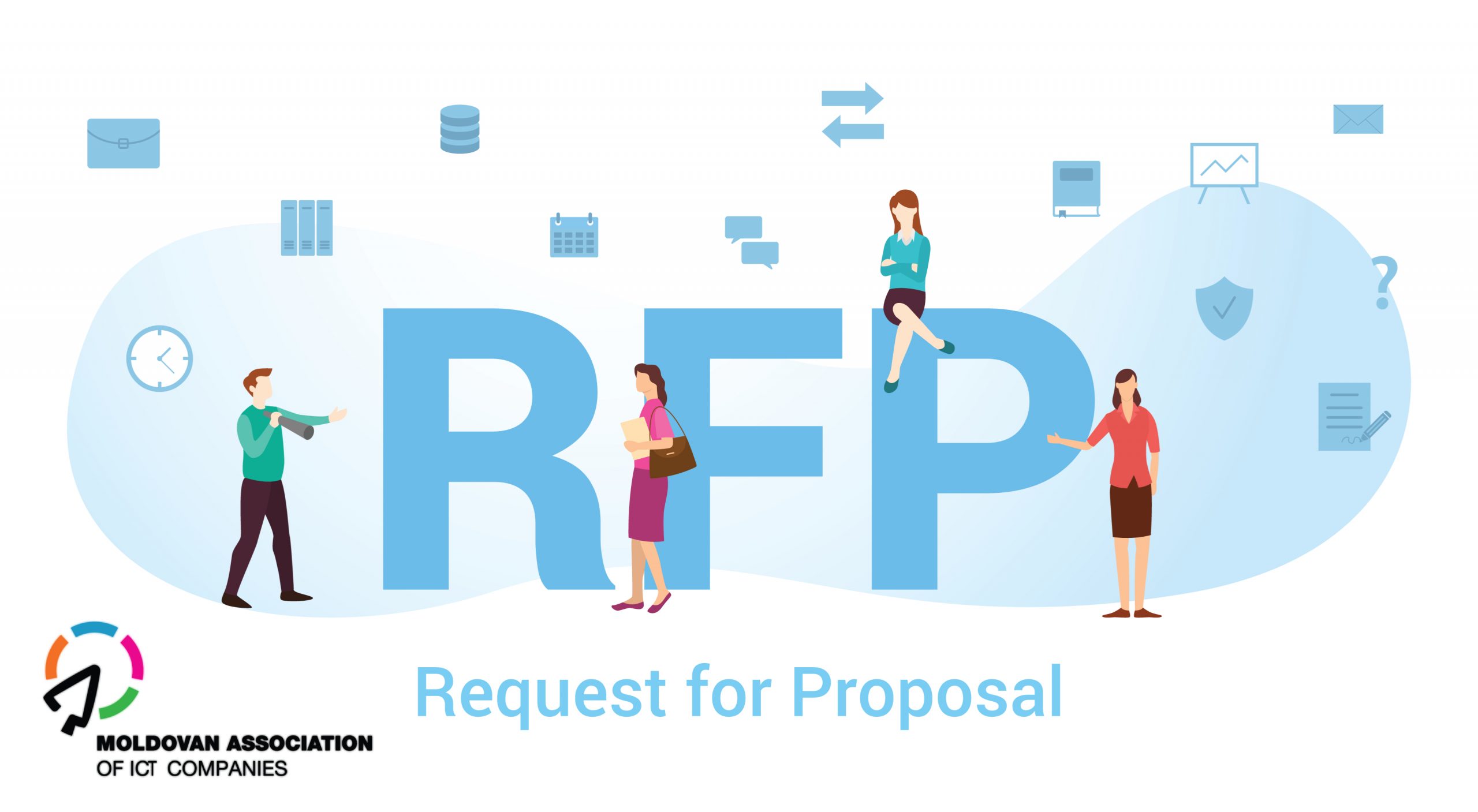 Request for Proposals (RFP): Design and production of video lessons
RFP Number: ICTEC-2019-007
Issuance Date: 22.10.2019
Deadline for Offers: 05.11.2019
Extended Deadline: 11.11.2019
Description: Design and production of video lessons
For: Moldova ICT Excellence Center Project
Funded By: United States Agency for International Development (USAID) and Government of Sweden, Contract No. AID-117-A-15-00002
Issued By: National Association of ICT Companies (ATIC)
Point of Contact: talexeev@ict.md, contact person: Tatiana Alexeev, Digital Education Consultant
and achirita@ict.md, Ana Chirita, Strategic Projects Director
SECTION 1: INTRODUCTION AND INSTRUCTIONS TO OFFERORS
1.1 Acronyms and Definitions
ATIC National Association of Private ICT Companies
ADS USAID Automated Directives System
CFR United States Code of Federal Regulations
Cooperating Country Moldova
FAR United States Federal Acquisition Regulation
RFP Request for Proposals
US United States
USAID United States Agency for International Development
USG United States Government
VAT Value Added Tax
1.2 Introduction
The National Association of ICT Companies (ATIC) is soliciting proposals from eligible and responsible firms to design and develop video lessons as described in Section 2.
About ATIC
THE MOLDOVAN ASSOCIATION OF ICT COMPANIES ("ATIC") is the business Organization uniting 45 companies. Umbrella Organization gathering over 5000 employees.
Being established in 2006, ATIC is the action leading association and the voice of the Moldovan ICT industry that promotes the development of the ICT sector in Republic of Moldova through viable partnerships between companies, similar organizations, government, state institutions and international organizations. The association was founded to represent the industry on different policy and legislative issues and to facilitate the exchange of best practices between members. ATIC mission is to protect and promote the Association members' interests as well as facilitate a more favorable ICT business climate.
About Tekwill
The ICTEC Project started as a USAID program implemented by the National Association of ICT Companies (ATIC). In 2016, the Government of Sweden joined the program and expanded the operations and content programs of Tekwill. The project is implemented as a private-public partnership (though Global Development Alliances instrument (GDA)), between the Moldovan Government, private industry, academia and donors. The private partners include multinational companies, IBM and Microsoft, and also Moldovan Association of Private ICT Companies (ATIC) members that are local (operated) ICT companies. The private partners bring significant new resources, ideas, software, technologies and development activities, such as trainings, practical assignments, and mentorship. The private sector partners will have the chance to use the center to communicate with the university, SMEs, startups, professionals and contribute to the curricula improvement answering the market needs, as well as the improvement of the IT and entrepreneurship ecosystem that will lead to the economic growth of the country. The Government of Moldova supports this project at the highest level of the Prime Minister, and the partners include Ministry of ICT, Ministry of Education, and E-Government Center.
Tekwill brings prestige and influences the tech sector, the host university (UTM), and to Moldova by directly contributing to the entrepreneurship ecosystem. In addition, Tekwill aims to improve the skills needed within the IT sector, thereby creating high quality and well-paid jobs, and deterring the emigration of talented young people. By enabling the tech sector to continue to grow, Tekwill encourages local startups and existing companies to expand and attract international IT companies to invest in Moldova.
Located in the heart of the Technical University of Moldova (UTMT), Tekwill is a 4,000m² hub that has everything one would ever need for ongoing growth, from co-working spaces, tech labs (IoT, 3D printing) and community events.
Tekwill is built on the belief that to be competitive economically in the years to come, Moldovan startups and innovators must begin adopting and creating industry-disrupting technology today. Therefore, this message was coded into our name; "Tek" – for technology and "will" – for our future. The organization regularly gathers local and international tech leaders to empower the development of Moldova's startup ecosystem by facilitating results-oriented innovation and collaboration.
Tekwill is where people, community, ideas, resources, science, and industry meet to identify, facilitate, and enhance excellence in information technology. Driving the Moldovan ecosystem, as a leading connecter and networking facilitator, organizing and supporting local and regional tech-related events.
Tekwill contributes to the economic development of Moldova by providing:
• World-class education and training facilities, with up to date curricula, lecturers and laboratories;
• Associated business development assistance;
• Relevant research and development capabilities
1.3 Questions and Requests for Clarifications
Questions regarding the technical or administrative requirements of this RFP may be submitted no later than October 29, 2019, 18:00 local Chisinau time by email to talexeev@ict.md, cc achirita@ict.md. Questions must be submitted in writing; phone calls will not be accepted. Questions and requests for clarification—and the responses thereto—that ATIC/Tekwill believes may be of interest to other offerors will be circulated to all RFP recipients who have indicated an interest in bidding.
Only the written answers issued by ATIC/Tekwill will be considered official and carry weight in the RFP process and subsequent evaluation. Any verbal information received from employees of ATIC or any other entity should not be considered as an official response to any questions regarding this RFP.
1.4 Offer Deadline
Offerors shall submit their expression of interest to participate and propose offers until November, 5th 2019 via e-mail to talexeev@ict.md and achirita@ict.md.
Offerors are responsible for ensuring that their offers are received in accordance with the instructions stated herein. Late offers may be considered at the discretion of ATIC/Tekwill.
1.5 Protocol for Submission of Offers
Electronic Submissions:
The Offeror must submit the proposal electronically with attachments compatible with MS Word, Excel, or Adobe Portable Document (PDF) format in a Microsoft environment. Those pages requiring original manual signatures should be scanned and sent in PDF format as an email attachment.
All offers must be prepared in English, Romanian or Russian.
1.5.1 Technical Volume
The Technical Volume should describe in detail the offeror's proposed plan for providing the services and commodities described in the technical specifications found in Section 2. It should demonstrate a clear understanding of the work to be undertaken and the responsibilities of all parties involved. The plan should include details on equipment, personnel, and subcontractors that the offeror will make available to carry out the required activities. The plan should also provide details on the anticipated delivery schedule, including an estimated completion date.
At a minimum, the Technical Volume must contain the following required completed documents:
For companies:
1. Letter of Transmittal (see Section 3)
2. Offeror's Summary Sheet (see Section 2)
3. Completed/Signed Certifications (see Section 5)
4. Past Performance Information
5. Staffing capacity to undertake the current project
6. Copy of official registration or business license
7. CV of Team Members planned to be assigned
For independent consultants:
1. CV
2. Past performance information
3. Offer
4. Concept of delivery of the assignment
Subcontracting arrangements: If the execution of work to be performed by the offeror requires the hiring of subcontractors, the proposal must clearly identify the subcontractor(s), contact information of subcontractor(s), and the work they will perform. ATIC/Tekwill will not refuse a proposal based upon the use of subcontractors; however, ATIC/Tekwill retains the right to approve or reject the specific subcontractors selected.
All electronic copies of documents in the Technical Volume must be in PDF, Microsoft Word or Microsoft Excel format.
The information contained in the Technical Volume should not contain any cost- or price-related information.
1.5.2 Cost Volume
Taking into consideration the complexity of the work, the cost proposal is used to determine which proposals represent the best value and serves as a basis of negotiation before award of a subcontract.
It should offer a clear understanding upon the amount of work, different types of activities (if applicable), but offer a fixed price for the assignment taking into account all details.
Please provide cost estimate for a total quantity of 150-200 video lessons. The table below is a suggestion, you can also provide your own form of quotation.
| | | | | |
| --- | --- | --- | --- | --- |
|   | Up to 1-minute length | Up to 5 minutes length | Up to 10 minutes length | Up to 15 minutes length |
| Live video |   |   |   |   |
| Screencast video |   |   |   |   |
| Typography with animation elements |   |   |   |   |
| Whiteboard animation |   |   |   |   |
| Mix of Live & Typography |   |   |   |   |
| Mix of Live & Screencast |   |   |   |   |
| Mix of Live & Whiteboard |   |   |   |   |
| Other suggestion of mixes |   |   |   |   |
The cost proposal shall also include a budget narrative that explains the basis for the estimate of every cost element or line item. Supporting information must be provided in sufficient detail to allow for a complete analysis of each cost element or line item. ATIC/Tekwill reserves the right to request additional cost information if the evaluation committee has concerns of the reasonableness, realism, or completeness of an offeror's proposed cost.
The agreement under which this procurement is financed does not permit the financing of any taxes, VAT, tariffs, duties, or other levies imposed by any laws in effect in the Cooperating Country. No such Cooperating Country taxes, charges, tariffs, duties or levies will be paid under an order resulting from this RFP.
1.6 Validity Period
Offers must remain valid for at least 60 calendar days after the offer deadline.
1.7 Eligibility of Offerors
By submitting an offer in response to this RFP, the offeror certifies that it and its principal officers are not debarred, suspended, or otherwise considered ineligible for an award. ATIC/Tekwill will not award a contract to any firm that is debarred, suspended, or considered to be ineligible.
1.8 Evaluation and Basis for Award
One or multiple awards will be made to the offeror whose proposal is determined to be responsive to this solicitation document, meets the eligibility criteria stated in this RFP, meets the technical, management/personnel, and corporate capability requirements, and is determined to represent the best value to ATIC/Tekwill. Best value will be decided using the tradeoff process.
This RFP will use the tradeoff process to determine best value. That means that each proposal will be evaluated and scored against the evaluation criteria and evaluation sub-criteria, which are stated in the table below. Cost proposals are not assigned points, but for overall evaluation purposes of this RFP, technical evaluation factors other than cost, when combined, are considered approximately equal to cost factors. If technical scores are determined to be equal or nearly equal, cost will become the determining factor.
Offerors must correspond to the following criteria:
• The potential of being a long-term partner for the e-learning educational ATIC/Tekwill programs
• Candidates with experience in e-learning platform development will have an advantage
• Ability to deliver within the set timeframe
• ATIC/Tekwill will take into consideration applications from a group of consultants that have the capabilities and experience to deliver on the requirements of this RFP
In evaluating proposals, ATIC/Tekwill will use the following evaluation criteria and sub-criteria:
Evaluation Criteria

Evaluation Sub-criteria

Maximum points

 

Quality of the proposal (technical offer)

30 points

 

Past performance information

20 points

 

Overall cost proposal provided

40 points

 

Ability to deliver within the set timeframe

10 points

Total Points – Technical and Cost Approach 100 points
1.10 Negotiations
Best and final price quotations are requested from all offerors. It is anticipated that awards will be made solely on the basis of these original quotations. However, ATIC/Tekwill reserves the right to conduct negotiations and/or request clarifications prior to awarding a subcontract.
1.11 Terms and Conditions of Subcontract
This is a Request for Proposals only. Issuance of this RFP does not in any way obligate ATIC/Tekwill, ATIC or USAID to award a subcontract, nor does it commit ATIC/Tekwill or USAID to pay for costs incurred in the preparation and submission of a proposal.
This solicitation is subject to the Draft Order Terms and Conditions detailed in Section 2. Any resultant award will be governed by these terms and conditions. ATIC/Tekwill reserves the right to make revisions to the content, order, and numbering of the provisions in the actual subcontract document prior to execution by ATIC and the selected awardee. Issuance of a subcontract award is subject to availability of sufficient funds.
SECTION 2. BACKGROUND, SCOPE OF WORK, DELIVERABLES AND DELIVERABLE SCHEDULE

2.1. Introduction
ATIC/Tekwill launched the TwentyTU concept in 2018, aiming to provide every school in Moldova the opportunity to access a free eLearning platform and benefit from an innovative online curriculum, as well as, benefit from updates with regards to all Tekwill's educational resources and opportunities. Foreseen as an update of the TwentyTU intiaitive and joined by the Tekwill in Every School concept, the initiative foresees the development of ten e-courses meant to support students in building competencies and know-how required by the future jobs' workplace.
The deployment of the platform is expected to take place as a pilot at Tekwill. Online groups of students will be created in order to test the technicalities of the platform. Learners will have a first-hand experience of the platform and its innovative learning process. Following the pilot phase, we'll be launching the platform and its content to every school in Moldova.
For the content development, we'll be using a blend of two e-learning approaches: the self-based approach where students are expected to study the course independently and at their own pace; plus the instructor-led approach where students will be receiving technical support, participate in webinars, undertake simulation exercises and prepare a final project.
The Online Courses
The first group of online courses aim to increase the students' awareness and understanding on how machines learn, how we can speak their language through algorithms and programing and ultimately how they can reshape our lives. Artificial intelligence (AI) is the most important change force in the international society, but it remains common for high school graduates to know nothing about how it works and the opportunities it creates. In order, for a student to better understand AI, he/she needs to have the basic skills and knowledge in the below courses first:
1. Procedural Programming in C/C++
2. Algorithms & Data Structures
3. Programming in Python
4. Artificial Intelligence
The above courses are expected to go live on the platform between March – September 2020.
The second group of online courses will focus on developing the creative and graphic design skills of students. The courses will include hands-on assignments, quizzes, and video tutorials to enhance students' design skills and teach them on how to create stunning 3D images, animations by using computers, as well as how to create a website and a mobile app in Android. These courses are expected to go live on the platform between September 2020 and January 2021.
5. Web Design & Development
6. Graphic Design
7. 3D Animation
8. Mobile Apps Design & Development
And the third group of online courses will focus on developing the non-cognitive skills of teens such as emotional maturity, empathy, interpersonal skills, and building their entrepreneurial spirit. Studies are showing that investment in the education of children's emotional intelligence is a cost-effective approach to increasing the quality and productivity of the workforce. Students will also be able to learn about entrepreneurship while building leadership, communication, presentation, and critical-thinking skills.
9. Entrepreneurship
10. Emotional Intelligence
e-Course Components:
Each course will be delivered in up to 20-30 lessons. Every lesson will have the following components:
1. Supportive course text that will be developed by the Subject Matter Expert;
2. Recommended reading and links to online resources, that will also be provided by the Subject Matter Expert.
3. Video lesson, summarizing the main ideas and key points of the lesson. The length of each video should be up to 10-15 minutes each. These videos must be developed by the instructional design company selected out of this RFP.
4. Simulation exercise will provide the hands-on learning and allow students to test the tasks explained in the video lesson.
5. Interactive quiz at the end of each lesson will be assessing in an interactive form the learnt material. The Subject Matter Expert will provide the quiz information, while the instructional design company will have to integrate these on the platform by its team of programmers.
6. Every course will have a final project Submission at the end. Students will have to submit their final projects reflecting the newly acquired skills and know-how gained in the online course.
The platform will also include:
1. A System of Digital Badges to reward the student efforts and encourage them to collect all existing badges.
2. Online Technical Support will be provided to students that encounter difficulties, questions along the studying course, they will be able to send an email and receive feedback and support.
3. Webinars will be held on a monthly basis on the platform.
2.2 Scope of work
ATIC/Tekwill is searching for an instructional design (ID) company that will design and develop ONLY the video lessons of all ten e-courses. More specifically, for each lesson, the ID company will:
1. review the content (supportive course text) provided by the Subject Matter Expert;
2. select the appropriate instructional video technique and style for each lesson and create a video production plan. Below is a recommended list of techniques and styles that we envision being used in the video production, you may also suggest other styles that you see appropriate:
• Live video. We intend to select two young IT enthusiasts, both male and female to present and narrate the material in front of the camera. We believe that peer to peer video learning will increase student' receptiveness towards the course, increase their participation, motivation and engagement in the learning process. This technique is ideal for introducing and concluding an idea in a video lesson. These can either be filmed with a camera or a smartphone camera, as long as quality is not affected.
• Screencasts. To be used for most of the how-to tutorials and simulation exercise lessons. This technique implies a digital recording of the computer screen with a voice-over narration. This is the most efficient way to explain how certain processes take place, so all what learners need to do is follow along and do what they see in the video.
• Typography (moving text) with elements of animations. This is an animation technique that blends movement and words to express ideas. Some learners respond to visuals, and some respond to the written words more and this technique is a great way to grab the attention of both.
• Whiteboard animation tells a creative story with pictures drawn on a whiteboard (or something that resembles a whiteboard) by artists who record their artistic process. Draw a story, graphs, diagrams, charts, or anything creative to enhance the information from the video lesson.
3. create a storyboard for each video lesson, define the level of interactivity required and specify which elements will appear in each screen of the video lesson. The storyboards should be created for each video lesson in a PowerPoint or Word document and should follow the below format (or a similar one):
• Course ID:
• Lesson ID:
• Screen ID:
• Visual elements/sketch story description:
• Narration script (dialogue or script that corresponds to that visual scene):
• Audio (music or sound effects, if any):
• Notes for the graphic design and animation team:
• Notes for the programming team:
• Learner interaction (if any):
4. produce the video lessons. We expect to receive the demo version of the first three lessons from the first course, to run it for internal feedback and review. Start shooting, development stage
2.3 Deliverables
The selected instructional design company will have the following deliverables:
1. Write-up the video lesson production plan per each course;
2. Prepare the storyboards for each video lesson, simulation exercise and quiz;
3. Production of a demo version of up to 4 lessons of the first course for testing and reviews;
4. Development of all video lessons per each course.
2.5 Timeline
Timeline (tentative) Responsible unit Action/Delivery
| | | |
| --- | --- | --- |
| Timeline (tentative) | Responsible unit | Action/Delivery |
| November 2019 | ATIC/Tekwill | Signing the contract |
| November 2019 | ID | Provide the course video lessons production plan |
| December 2019 | ID | Completed storyboards for first course |
| December 2019 – January 2020 | ID | Production of the demo version (up to 4 lessons from the first course) |
| December 2019 – March 2020 | ID | Completed storyboards for all courses |
| December 2019 – December 2020 |   | Production of all video lessons |
| March 2020 – September 2020 – January 2021 | ID & ATIC/Tekwill | Launch of online courses |
2.2 Delivery Requirements
The delivery of the final product can take place electronically and/or using a cloud service. As part of its response to this RFP, each offeror is expected to provide an estimate (in calendar days) of the delivery and execution timeframe (after receipt of order). The delivery estimate presented in an offer in response to this RFP must be upheld in the performance of any resulting contract.
The delivery estimate presented in any offers in response to this RFP must be honest, accurate, and upheld in the performance of any resulting subcontract or order.
Section 3: Letter of Transmittal
The following cover letter must be placed on letterhead and completed/signed/stamped by a representative authorized to sign on behalf of the offeror, as part of the Technical Volume:
To: National Association of ICT Companies
Str. Studentilor 9/11
Reference: RFP No. ICTEC-2019-007
To Whom It May Concern:
We, the undersigned, hereby provide the attached offer to perform all work required to complete the activities and requirements as described in the above-referenced RFP. Please find our offer attached.
We hereby acknowledge and agree to all terms, conditions, special provisions, and instructions included in the above-referenced RFP. We further certify that the below-named firm—as well as the firm's principal officers and all commodities and services offered in response to this RFP—are eligible to participate in this procurement under the terms of this solicitation.
Furthermore, we hereby certify that, to the best of our knowledge and belief:
· We have no close, familial, or financial relationships with any ATIC or above-mentioned project staff members;
· We have no close, familial, or financial relationships with any other offerors submitting proposals in response to the above-referenced RFP; and
· The prices in our offer have been arrived at independently, without any consultation, communication, or agreement with any other offeror or competitor for the purpose of restricting competition.
· All information in our proposal and all supporting documentation is authentic and accurate.
· We understand and agree to ATIC' prohibitions against fraud, bribery, and kickbacks.
We hereby certify that the enclosed representations, certifications, and other statements are accurate, current, and complete.
Authorized Signature:
Name and Title of Signatory:
Date:
Company Name:
Company Address:
Company Telephone and Website:
Company Registration or Taxpayer ID Number:
Does the company have an active bank account (Yes/No)?
Official name associated with bank account (for payment):
PART 1: PAYMENT AND FINANCIAL OBLIGATIONS
3.1 Subcontract Price

The Subcontractor shall complete all work (including furnishing all labor, material, commodities, equipment, and services) required under this subcontract for the fixed price of TBD . This price shall include all equipment, commodities, shipping costs, licenses, permits, administration costs, labor costs, materials, overhead, profit, and all other costs.
The Subcontractor will be paid the installment amounts listed under the column named "Payment Amount" only upon successful completion and acceptance by ATIC of all corresponding deliverables listed in the column named "Corresponding Deliverable Name."
3.2 Payment Terms
ATIC will pay the total price through a series of installment payments as provided in Article 9 above, after Subcontractor's completion of the corresponding deliverables and ATIC' acceptance thereof. The Subcontractor may submit invoices for deliverables that have been accepted and approved by the authorized ATIC representative. ATIC will pay the Subcontractor's invoice within fifteen (15) days after the following conditions have been fulfilled:
a) the Subcontractor has delivered a proper invoice
b) ATIC has issued an inspection certificate
Payment will be made in MDL or EUR based on the location of the company providing services, paid via wire transfer to the account specified in the Subcontractor's invoice. Payment of unpaid balances will be made upon completion and final acceptance of all works and deliverables by ATIC. Any invoices for services rendered and deliverables submitted—but not accepted by ATIC—will not be paid until the Subcontractor makes sufficient revisions to the deliverables such that ATIC may approve the deliverables and thus the invoice.
3.3 Invoice Requirements

The Subcontractor shall present an invoice to ATIC only for services and/or commodities that have been accepted by ATIC. The invoice must be an original invoice, submitted to:
ATIC
Attention: Accountant Office
National Association of ICT Companies
To constitute a proper invoice, the Subcontractor's invoice must include the following information and/or attached documentation. This information will assist ATIC in making timely payments to the Subcontractor:
1. Subcontractor legal name, subcontract number, invoice date, and invoice number.
2. Deliverable(s) number, description of approved deliverable(s), and corresponding value.
3. Bank account information to which payment shall be sent.
3.4 Cooperating Country Fees, Taxes, and Duties

The Subcontractor is responsible for payment of all applicable taxes, as prescribed under the applicable laws, associated with wages/salaries/compensation for services rendered by individuals employed by the Subcontractor and who are directed to work as required under this Subcontract. The Subcontractor is liable for payment of all applicable taxes associated with revenues (profit), and other such taxes, fees, or dues for which Subcontractor is normally responsible as a result of operating its business.
3.5 Set-Off Clause
ATIC reserves the right of set-off against amounts payable to Subcontractor under this subcontract or any other agreement in the amount of any claim or refunds ATIC may have against the Subcontractor.
Part 2: ADDITIONAL TERMS AND CONDITIONS
1. AUTHORIZED USAID GEOGRAPHIC CODE
The authorized USAID geographic code for this subcontract is USAID Geographic Code 110 in accordance with the United States Code of Federal Regulations (CFR), 22 CFR §228, available at: http://www.gpo.gov/fdsys/pkg/CFR-2012-title22-vol1/pdf/CFR-2012-title22-….
The source and nationality of all goods, commodities, and services provided under this subcontract must meet the above-specified USAID geographic code specified in accordance with the regulations found in 22 CFR 228.
The cooperating country for this subcontract is Moldova.
No commodities or related services may be supplied under this subcontract that are manufactured or assembled in, shipped from, transported through, or otherwise involving any of the following countries: Burma (Myanmar), Cuba, Iran, North Korea, (North) Sudan, Syria. Related services include incidental services pertaining to any/all aspects of this work to be performed under a resulting subcontract (including transportation, fuel, lodging, meals, and communications expenses).
2. RESTRICTIONS ON CERTAIN FOREIGN PURCHASES (FAR 52.225-13)
(a) Except as authorized by the Department of Treasury's Office of Foreign Assets Control (OFAC), the Subcontractor shall not acquire for its use in the performance of this subcontract, any supplies or services if any proclamation, U.S. Executive Order, U.S. statute, or OFAC's implementing regulations (31 CFR Chapter V), would prohibit such a transaction by a U.S. person, as defined by law.
(b) Except as authorized by OFAC, most transactions involving Cuba, Iran, the Sudan, Burma and North Korea are prohibited, including importing/exporting to/from the United States, engaging in financial transactions, or facilitating any prohibited transactions by third parties. Lists of entities and individuals subject to economic sanctions – which are updated routinely – are included in OFAC's List of Specially Designated Nationals and Blocked Persons at http://www.treas.gov/offices/enforcement/ofac/sdn. It is the Subcontractor's responsibility to remain informed as to sanctioned parties and to ensure compliance with all relevant U.S. sanctions and trade restrictions. More information about these restrictions, as well as updates, is available in the OFAC's regulations at 31 CFR Chapter V and/or on OFAC's website at http://www.treas.gov/offices/enforcement/ofac.
(c) The Subcontractor shall insert this article, including this paragraph (c), in all subcontracts and subawards issued under this subcontract.
3. COMPLIANCE WITH U.S. EXPORT LAWS
Subcontractor warrants and agrees to comply with all U.S. export laws and regulations and other applicable U.S. law and regulations, including but not limited to: (i) the Arms Export Control Act (AECA), 22 U.S.C. 2778 and 2779; (ii) Trading with the Enemy Act (TWEA), 50 U.S.C. App. §§ 1-44; (iii) International Traffic in Arms Regulations (ITAR), 22 C.F.R. Parts 120-130.; (iv) Export Administration Act (EAA) of 1979 and the Export Administration Regulations (EAR) 15 C.F.R. Parts 730-774, (including the EAR anti-boycott provision); (v) the International Emergency Economic Powers Act (IEEPA), 50 U.S.C. 1701-1706 and Executive Orders of the President under IEEPA, 50 U.S.C. app. §§ 2401-2420; (vi) Office of Foreign Asset Controls (OFAC) Regulations, 31 C.F.R. Parts 500-598; and (vii) other applicable U.S. laws and regulations. As required, subject to ATIC' prior approval for all exports or imports under the Subcontract, Subcontractor shall determine any export license, reporting, filing or other requirements, obtain any export license or other official authorization, and carry out any customs formalities for the export of goods or services. Subcontractor agrees to cooperate in providing any reports, authorizations, or other documentation related to export compliance requested by ATIC. Subcontractor agrees to indemnify, hold harmless and defend ATIC for any losses, liabilities and claims, including as penalties or fines as a result of any regulatory action taken against ATIC as a result of Subcontractor's non-compliance with this provision.
4. ANTI-KICKBACK
(a) Definitions.
• Kickback, as used herein, means any money, fee, commission, credit, gift, gratuity, thing of value, or compensation of any kind, which is provided, directly or indirectly, to ATIC, the ICTEC project office or any of its employees, the Subcontractor or Subcontractor employees, or vendors in any way related to the performance or subsequent activities of this subcontract, for the purpose of improperly obtaining or rewarding favorable treatment in connection with this subcontract.
• Person, as used in this article, means a corporation, partnership, business association of any kind, trust, joint-stock company, or individual.
• Subcontractor employee, as used in this article, means any officer, partner, employee, or agent of the Subcontractor.
(b) The Subcontractor and its employees, whether directly or indirectly engaged in the performance of this subcontract, agree to abide by the terms of The United States Anti-Kickback Act of 1986, which prohibits any person from providing or attempting to provide any kickback; soliciting, accepting, or attempting to accept any kickback; or including, directly or indirectly, the amount of any kickback in the contract price charged by the Subcontractor to ATIC.
When the Subcontractor has reasonable grounds to believe that a violation described in paragraph (b) of this provision may have occurred, the Subcontractor shall promptly report in writing the possible violation. Such reports shall be made to ATIC, who shall forward the report to the USAID Inspector General for investigation, as required.
The Subcontractor agrees to cooperate fully with any United States Government agency investigating a possible violation described in paragraph (b) of this article.
ATIC may offset the amount of the kickback against any monies owed by ATIC under this fixed price subcontract or order the monies withheld from future payments due the Subcontractor.
The Subcontractor agrees to include the substance of this article in any contract it may issue under this subcontract.
5. TERRORIST FINANCING PROHIBITION
The Subcontractor (including its employees, consultants, and agents) by entering into this subcontract certifies that it does not engage, support or finance individuals and/or organizations associated with terrorism. The Subcontractor is reminded that U.S. Executive Orders and U.S. law prohibits transactions with, and the provision of resources and support to, individuals and organizations associated with terrorism. A list of entities and individuals subject to restrictions, prohibitions and sanctions can be found at the web site of the Department of Treasury's Office of Foreign Assets Control (OFAC), at http://treasury.gov/ofac. It is the legal responsibility of the Subcontractor to ensure compliance with the Executive Order 13224 and other U.S. laws prohibiting terrorist financing. This provision must be included in all subcontracts or subawards issued under this subcontract.
6. ELIGIBILITY OF SUBCONTRACTORS
In accordance with Federal Acquisition Regulation (FAR) Clause 52.209-6, "Protecting the Government's Interest When Subcontracting with Contractors Debarred, Suspended, or Proposed for Debarment," (SEP 2006), no commodities, software, goods, materials, or services shall be eligible for USAID financing or reimbursement under this subcontract if provided by a subcontractor or supplier (or a subcontractors' or suppliers' principle) that is debarred, suspended, or proposed for debarment by USAID or the USG. This applies to the Subcontractor and the Subcontractor's subcontractors and suppliers as well.
7. COMPLIANCE WITH APPLICABLE LAWS AND STANDARDS
The Subcontractor shall perform all work, and comply in all respects, with applicable laws, ordinances, codes, regulations, and other authoritative rules of the United States and Moldova and its political subdivisions and with the standards of relevant licensing boards and professional associations. The Subcontractor shall also comply with the applicable USAID regulations governing this subcontract, which are incorporated by reference into this subcontract, and appear in Article 35, Clauses Incorporated by Reference.
8. INDEMNITY AND SUBCONTRACTOR WAIVER OF BENEFITS
A. The Subcontractor waives any additional benefits and agrees to indemnify and save harmless ATIC, USAID, their officers, directors, agents, and employees from and against any and all claims and liability, loss, expenses, suits, damages, judgments, demands, and costs (including reasonable legal and professional fees and expenses) arising out of:
(1) the acts or omissions of Subcontractor, its employees, officers, directors, agents or its subcontractors;
(2) injury or death to persons, including officers, directors, employees, agents and subcontractors of Subcontractor, or loss of or damage to property, or fines and penalties which may result, in whole or in part, by reason of the buying, selling, distribution, or use of any of the goods or services purchased or provided under this Subcontract except to the extent that such damage is due to the negligence of ATIC;
(3) the infringement or violation of any patent, copyright, trademark, service mark, trade secret, or other proprietary interest of any third party resulting from ATIC use, distribution, sale, sublicensing, or possession of the goods (including software and all forms of written materials) or services purchased or provided, as authorized hereunder, or from the use or possession of said goods or services by ATIC, USAID, as authorized hereunder; or false claims submitted by Subcontractor or its subcontractors under this Subcontract or as a result of a Subcontractor misrepresentation of fact or fraud by Subcontractor.
B. Subcontractor shall defend and settle at its sole expense all suits or proceedings arising out of the foregoing, provided that Subcontractor has notice or is given prompt written notice of such claim or suit and, further, that Subcontractor shall be given necessary information, reasonable assistance and the authority to defend such claim or suit. Subcontractor shall not settle, compromise or discharge any pending or threatened suit, claim or litigation, arising out of, based upon, or in any way related to the subject matter of this subcontract and to which ATIC is or may reasonably be expected to be a party, unless and until Subcontractor has obtained a written agreement, approved by ATIC (which shall not be unreasonably withheld) and executed by each party to such proposed settlement, compromise or discharge, releasing ATIC from any and all liability.
C. If any of the goods or services provided by Subcontractor hereunder, including without limitation software and all forms of written materials, become the subject of a claim of infringement or violation of a third party's intellectual property, privacy and/or proprietary rights, Subcontractor shall, at its own expense, use its best efforts—
(1) to procure for ATIC the right to continue use and, if authorized under this Subcontract, distribution of the infringing goods or services or,
(2) to modify the goods or services to make them non-infringing, or to replace them with equivalent, non-infringing counterparts.
If none of the above-mentioned can be successfully implemented, then Subcontractor shall refund to ATIC all monies paid to the Subcontractor for the infringing goods and services.
9. INTELLECTUAL PROPERTY RIGHTS
The ownership of all copyright and other intellectual property rights in respect of any data compilations, research, spreadsheets, graphs, reports, diagrams, designs, work products, software, or any other documents, developed in connection with this subcontract will exclusively vest in or remain with ATIC/Tekwill, which shall have all proprietary rights therein, notwithstanding that the Subcontractor or its employees may be the author of the intellectual property. All documents relating to the intellectual property or otherwise connected with this fixed price subcontract, the services, or duties must be returned or delivered to ATIC at the time of the expiration or termination of the subcontract. The Subcontractor agrees not to publish or make use of any of the intellectual property, or documents relating thereto, without the prior written approval of ATIC and proper attribution.
10. MODIFICATIONS
Modifications to the terms and conditions of this subcontract, including any modification to the scope of work, may only be made by written agreement between authorized personnel of both Parties as stipulated in Article 16 of this subcontract. Each Party shall give due notice and consideration to any proposals for modification made by the other Party.
11. CHANGES
In accordance with FAR Clause 52.243-1 "Changes—Fixed-Price" (AUG 1987), ATIC/Tekwill may at any time, by written order, and without notice to the sureties, if any, make changes within the general scope of this subcontract in the services to be performed.
If any such change(s) causes an increase or a decrease in the cost, or the time required for the performance, or any part of the work under the subcontract, an equitable adjustment shall be made in the subcontract price or delivery schedule, or both, and the subcontract shall be modified in writing accordingly. Any claim by the Subcontractor for adjustment under this subcontract must be asserted within 30 (thirty) days from the date of receipt by the Subcontractor of the modification or change.
12. ASSIGNMENT AND DELEGATION
This subcontract may not be assigned or delegated, in whole or in part, by the Subcontractor without the written consent of ATIC. Absent such written consent, any assignment is void.
13. TERMINATION
ATIC/Tekwill reserves the unilateral right to terminate this fixed price subcontract at any time, paying for all deliverables completed at the time of termination and a pro-rata share of any deliverable in progress, in accordance with FAR Clause 52.249-1, Termination for Convenience of the Government (Fixed Price) (Short Form) (April 1984), which is incorporated by reference in Article 35 herein.
In the event that the Subcontractor fails to make progress so as to endanger performance of this fixed price subcontract, or is unable to fulfill the terms of this fixed price subcontract by the completion date, the Subcontractor shall notify ATIC forthwith and ATIC shall have the right to summary termination of this fixed price subcontract upon written notice to the Subcontractor in accordance with the incorporated FAR Clause 52.249-8, Default (Fixed-Price Supply and Service).
SECTION 4: OFFEROR'S TECHNICAL SUMMARY SHEET
The following information must be completed and submitted in the Technical Volume:
I. Name of Offeror:
Tax ID No.:
DUNS No:
Address:
Telephone/Fax No.:
II. Is the Offeror an official dealer for the commodities offered? ____yes _____no
III. International warranty on all commodities? ____yes _____no
Copy of warranty terms/conditions included? ____yes _____no
How many years for the warranty? _______ years
III. Authorized agent(s) in the Republic of Moldova for service, warranty, etc.:
A. Name(s):
B. Address(s):
C. Telephone No.(s): Fax No.(s):
D. Contact:
IV. Delivery time
Deliverable Number Deliverable Name Delivery Schedule
1
2
3
4
5
etc.
TOTAL delivery estimate (after receipt of order) _______ calendar days
(NOTE: Delivery data must be honest, accurate, and upheld in any resulting subcontract.)
Company Name
Name and title of authorized representative
Signature
Date
SECTION 5: REQUIRED CERTIFICATIONS
The following certifications must be completed and submitted in the Technical Volume:
SECTION 5-1: CERTIFICATE OF INDEPENDENT PRICE DETERMINATION
CERTIFICATE OF INDEPENDENT PRICE DETERMINATION
_________________________(hereinafter called the "offeror")
(Name of Offeror)
(a) The offeror certifies that—
(1) The prices in this offer have been arrived at independently, without, for the purpose of restricting competition, any consultation, communication, or agreement with any other offeror or competitor relating to— (i) Those prices;
(ii) The intention to submit an offer; or
(iii) The methods or factors used to calculate the prices offered.
(2) The prices in this offer have not been and will not be knowingly disclosed by the offeror, directly or indirectly, to any other offeror or competitor before bid opening (in the case of a sealed bid solicitation) or contract award (in the case of a negotiated solicitation) unless otherwise required by law; and
(3) No attempt has been made or will be made by the offeror to induce any other concern to submit or not to submit an offer for the purpose of restricting competition.
(b) Each signature on the offer is considered to be a certification by the signatory that the signatory—
(1) Is the person in the offeror's organization responsible for determining the prices being offered in this bid or proposal, and that the signatory has not participated and will not participate in any action contrary to paragraphs (a)(1) through (a)(3) of this provision; or
(2)(i) Has been authorized, in writing, to act as agent for the following principals in certifying that those principals have not participated, and will not participate in any action contrary to paragraphs (a)(1) through (a)(3) of this provision ____________________ [insert full name of person(s) in the offeror's organization responsible for determining the prices offered in this bid or proposal, and the title of his or her position in the offeror's organization];
(ii) As an authorized agent, does certify that the principals named in subdivision (b)(2)(i) of this provision have not participated, and will not participate, in any action contrary to paragraphs (a)(1) through (a)(3) of this provision; and
(iii) As an agent, has not personally participated, and will not participate, in any action contrary to paragraphs (a)(1) through (a)(3) of this provision.
(c) If the offeror deletes or modifies paragraph (a)(2) of this provision, the offeror must furnish with its offer a signed statement setting forth in detail the circumstances of the disclosure.
Company Name:
By (Signature): ___________________ Title: _____________________
Printed Name: ____________________ Date: _____________________
SECTION 5-2: CERTIFICATION REGARDING RESPONSIBILITY MATTERS
CERTIFICATION REGARDING RESPONSIBILITY MATTERS

(a) (1) The Offeror certifies, to the best of its knowledge and belief, that –
(i) The Offeror and/or any of its Principals –
(A) Are 0, are not 0, presently debarred, suspended, proposed for debarment, or declared ineligible for the award of contracts by any Federal agency;
(B) Have 0, have not 0, within a three-year period preceding this offer, been convicted of or had a civil judgment rendered against them for: commission of fraud or a criminal offense in connection with obtaining, attempting to obtain, or performing a public (Federal, state, or local) contract or subcontract; violation of Federal or state antitrust statutes relating to the submission of offers; or commission of embezzlement, theft, forgery, bribery, falsification or destruction of records, making false statements, tax evasion, violating Federal criminal tax laws, or receiving stolen property;
(C) Are 0, are not 0, presently indicted for, or otherwise criminally or civilly charged by a governmental entity with, commission of any of the offenses enumerated in paragraph (a)(1)(i)(B) of this provision;
(D) Have 0, have not 0, within a three-year period preceding this offer, been notified of any delinquent Federal taxes in an amount that exceeds $3,000 for which the liability remains unsatisfied.
(ii) The Offeror has 0 has not 0, within a 3-year period preceding this offer, had one or more contracts terminated for default by any Federal agency.
(2) "Principal," for the purposes of this certification, means an officer, director, owner, partner, or a person having primary management or supervisory responsibilities within a business entity (e.g., general manager; plant manager; head of a subsidiary, division, or business segment; and similar positions). This certification concerns a matter within the jurisdiction of an agency of the United States and the making of a false, fictitious, or fraudulent certification may render the maker subject to prosecution under Section 1001, Title 18, US Code.
(b) The Offeror shall provide immediate written notice to ATIC if, at any time prior to contract award, the Offeror learns that its certification was erroneous when submitted or has become erroneous by reason of changed circumstances.
c) A certification that any of the items in paragraph (a) of this provision exists will not necessarily result in withholding of an award under this solicitation. However, the certification will be considered in connection with a determination of the Offeror's responsibility. Failure of the Offeror to furnish a certification or provide such additional information as requested by ATIC may render the Offeror nonresponsible.
(d) Nothing contained in the foregoing shall be construed to require establishment of a system of records in order to render, in good faith, the certification required by paragraph (a) of this provision. The knowledge and information of an Offeror is not required to exceed that which is normally possessed by a prudent person in the ordinary course of business dealings.
(e) The certification in paragraph (a) of this provision is a material representation of fact upon which reliance was placed when making award. If it is later determined that the Offeror knowingly rendered an erroneous certification, in addition to other remedies available ATIC, ATIC may terminate the contract resulting from this solicitation for default.
Company Name:
By (Signature): ___________________ Title: _____________________
Printed Name: ____________________ Date: _____________________
SECTION 5-3: EVIDENCE OF RESPONSIBILITY STATEMENT
EVIDENCE OF RESPONSIBILITY STATEMENT
This statement describes the offeror's internal policies and procedures, as well as its ability to comply with the terms and conditions of a potential subcontract resulting from RFP No. ICTEC-2019-007. The offeror shall complete the information in this statement as part of its proposal.
Company Name:
1. Authorized Negotiators
The offeror's proposal in response to RFP No. ICTEC-2019-007 may be discussed with any of the following individuals. These individuals are authorized to represent our company in negotiation of this proposal.
Names of authorized negotiator(s):
These individuals can be reached at the following office:
Address:
Telephone/Email:
2. Adequate Financial Resources
We hereby certify that the above-named company maintains adequate financial resources to manage any subcontract resulting from this offer.
3. Ability to Comply
We certify we are able to comply with the proposed schedule and period of performance, having taken into consideration all existing business commitments, commercial as well as governmental.
4. Record of Performance, Integrity, and Business Ethics
Our record of integrity is outstanding. We have no allegations of lack of integrity or of questionable business ethics. Our integrity can be confirmed by our Past Performance References, contained in the Technical Volume.
5. Organization, Experience, Accounting and Operational Controls, and Technical Skills
Describe how the subcontract will be managed:
6. Equipment and Facilities
We maintain the necessary facilities and equipment to carry out the subcontract.
7. Eligibility to Receive Award
We are qualified and eligible to receive an award under applicable laws and regulation. In addition, we have performed similar work – describe:
8. Acceptability of Subcontract Terms and Conditions
We have reviewed the solicitation document and attachments and agree to the terms and conditions set forth therein.
I hereby certify that the above statements are true and accurate, to the best of my knowledge.
Company Name:
By (Signature): ___________________ Title: _____________________
Printed Name: ____________________ Date: _____________________