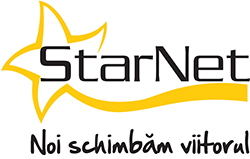 StarNet, founded in 2003, is a privately-owned telecommunications company, one of the leading ITC organizations from Moldova. Since 2014, StarNet comprises a group of 5 profiled companies, organized as a holding.
Taking into consideration the fast development of the technology, the company continuously attempts to keep the pace of the hi-tech evolution by integrating new equipment and providing quality customer service.
During 16 years of existence, StarNet has managed to become one of the most popular and respected brands in Moldova, being highly appreciated by both experts and clients for the ability to meet the needs of its customers and for implementing new technologies in the field. StarNet is a company that focuses on creating the basis of the future, in which everyone could benefit from modern technologies that improve life at good prices and quality services. One of the company's primary goals is to provide integrated solutions for everybody, which is why it continuously improves its services. StarNet has its own fiber-optic network – the only company to have developed a fiber-optic network of such complexity in Moldova – and started to expand from the capital city to the entire country, now being present in 28 cities, covering households and businesses from North to South, West, and East of Moldova.
Visit us on www.starnet.md